Wedding Flowers
IN PASADENA AND LOS ANGELES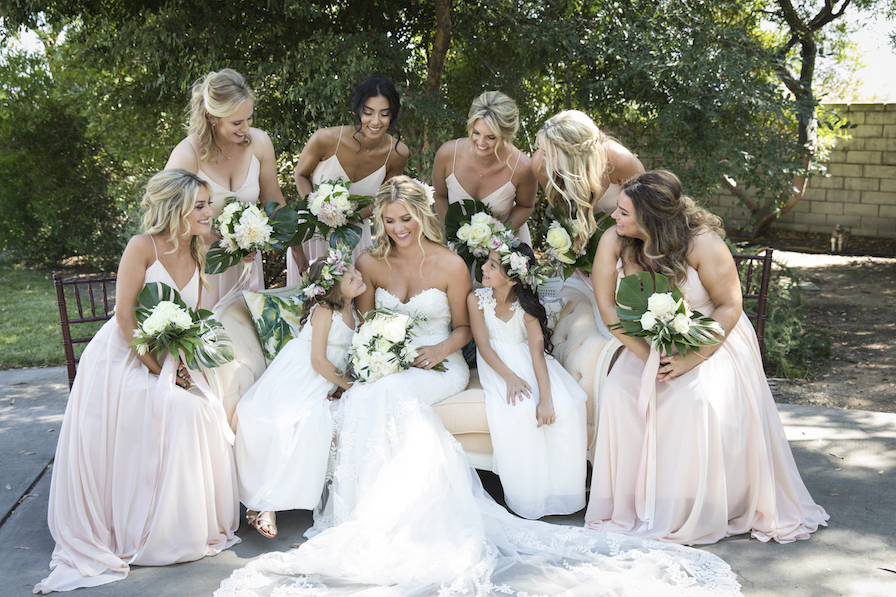 One of our greatest joys is first meeting with our clients months before their big day. We look forward to sitting down with you to learn more about you and your story. We want to learn who you are as a couple and what impression you want to leave your guests so that we can develop a unique interpretation of your personalities, which will be reflected not only in the flowers but in other curated details that will make your day truly special. We are excited to talk through your vision and ideas so that we can design a unique wedding reflective of you both your styles.        
Since there is an organic process where the original concept may develop over the months of planning, we will work with you continuously with the end result in mind… a spectacular and unforgettable wedding day.
Although most of our work ranges within the San Diego area, Orange County, and Los Angeles County, we've accommodated clients from San Gabriel to Malibu. In special circumstances, we can bring our design to Santa Barbara County, Palm Desert, and Las Vegas (or beyond!)
More than just a florist. We are your floral stylist!
We pride ourselves on being able to interpret and create an individualized floral design based on your unique requests and your budget. Whether you want us to curate a modern, clean, tailored wedding located in a contemporary loft or design a rustic-chic, garden style wedding at a coastal vineyard, we can design for any venue and style.
Our design goes beyond just florals. As a team of floral stylists, we emphasize that design is the "whole" picture, not just the flowers in the center of the table.  Although we specialize in gorgeous, bespoke floral design, we also believe a truly memorable event goes beyond flowers. All elements of the wedding come into play when designing the right look and vibe for your big day.
Unique rental items including various options of specialty table top accessories such as beautiful candle holders, chargers, and glassware can complete the look and vibe of your event. We can assist in bringing together all the visual elements of your entire wedding day. From developing a layout, to coordinating specialty rentals like unique tables or chairs, to providing advice on stationary and bridesmaids dress colors (it has happened!), we can help bring cohesion to your event. Regardless of your needs, we are thrilled to provide you with amazing florals, if only for the bridal party, ceremony, and table tops.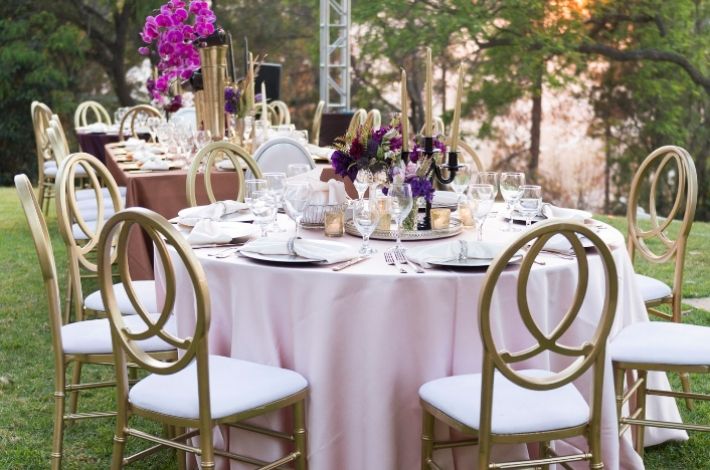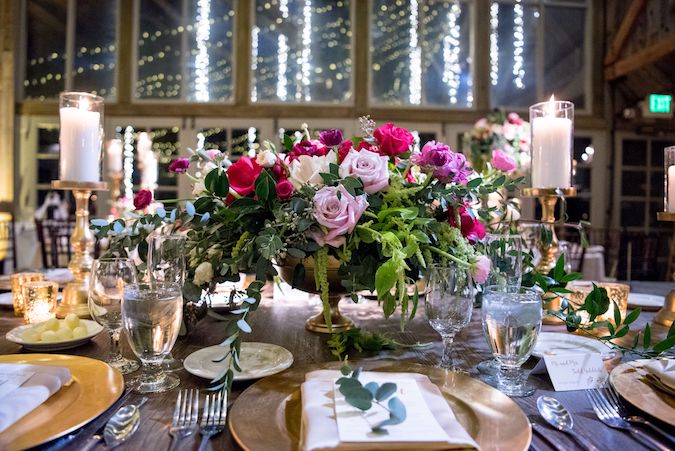 The Process
The little (or sometimes big) details are what make an event one that everyone will talk about for weeks, sometimes even years, after the wedding.  Flowers can convey your personalities and express your vibe as a couple. They can add a tasteful pop of color or a refined sophistication and help create the mood and ambiance you are envisioning for your big day.  But, just like a delicious chocolate cake (my favorite!), there are layers for a truly memorable day. Beautiful colored or textured linens, table top accessories such as chargers and glassware, specialty tables, and chair rentals all add to the total look and feel of an event. We can help with all of this! 
From design boards, to site visits and layouts, to sourcing quality rentals and specialty vendors, Ixora can help. Collaboration and clear communication will be key in the process of curating the right look and design. An initial proposal will be created based on your needs and wants, including all viable options with associated budgets. Planning a wedding can be a dynamic and evolving process and it is common to have many reiterations of Draft one to ensure that we get everything just right.  We will also create a centerpiece sample about 6 weeks prior to the wedding to showcase what you will see on the big day and make any necessary alterations with plenty of time before the wedding.
View

Wedding

Gallery